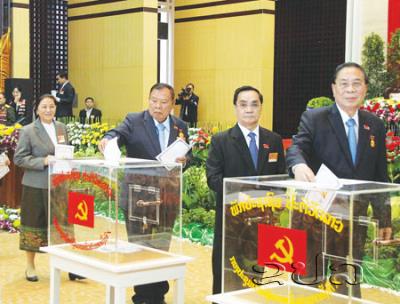 The 10th Congress of the Lao People's Revolutionary Party (LPRP) was closed on 22th January electing the next leadership. 
ICP, 23th January 2016
The official news agency of Lao, KPL, reported that Vice President Bounnhang Vorachit has been elected as new Secretary General of the Party, replacing his predecessor Choummaly Sayasone who had been in the post for almost 10 years.
At the five-day congress, held on Jan 18-22 also the new politburo, Central Committee of the Party, and its secretariat were also elected and assigned.
Four Party leaders - former General Secretary and president Mr Choummaly Sayasone, prime minister Mr Thongsing Thammavong, Mr Asang Laoly and Mr Somsavat Lengsavad were reported as selected advisors to the 10th Party Central Committee, meaning not actively taking part in the new leadership of LPRP.
KPL also reports that, Secretary General Bounnhang Vorachit, Mr Thongloun Sisoulith, Ms Pany Yathortou, and Dr Bounthong Chitmany, Dr Phankham Viphavanh, as well as Mr Chansy Phosikham were reelected members of the new politburo of the Party.
The new Central Committee comprises 69 permanent members and 8 substitutes. The new members of the Party CC were elected by 685 permanent members of the LPRP who represent more than 268,000 Party members nationwide.