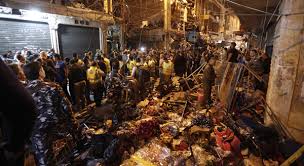 ICP, 16th November 2015
The statement released by the Polit Bureau of the Lebanese Communist Party, after the attacks in Beirut is as follows:
"Lebanese Communist Party condemns the criminal terrorist bombings
And it calls on the authority to provide the elements of unity and steadfastness"
Beirut 12/11/2015
A national tragedy suffered by our people and our nation after the extended hands of brutal criminal terrorism extended to Bourj al-Barajneh district in the southern suburbs of Beirut  through consecutive suicide bombings led to the occurrence of dozens of martyrs and hundreds of wounded from our people's innocent civilian sons.
The Political Bureau of the Lebanese Communist Party (LCP) condemns this terrorist criminal act linked to the Zionist enemy aimed at wakening up the strife, calls upon the parties of the political power to pay attention to the internal situation in order to fortify the national unity instead of political bickering and sectarian spats, and to provide the elements of steadfastness and confrontation in order to eradicate terrorism. The LCP also calls upon the Lebanese people for more vigilance and strengthen the National People's Unity to eliminate all forms of terrorism and sectarian strives.
The Political Bureau of the party offers the families of the martyrs, the southern suburbs, the people and the homeland deepest condolences with wishes for a speedy recovery for the wounded.
Lebanese Communist Party
Political Bureau