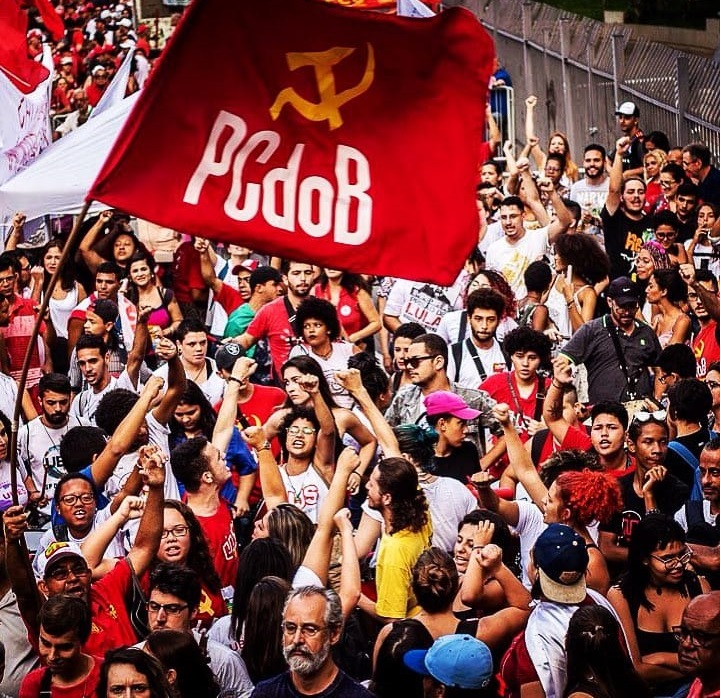 Communist Party of Brazil (PCdoB) declares support for Workers' Party candidate Haddad in the second round of presidential elections and calls for a 'democratic front' against Bolsonaro.
ICP, 13 October 2018
The National Political Commission of the Communist Party of Brazil (PCdoB) issued a statement on October 8th, 2018, regarding the presidential elections. According to the statement, the second round of the presidential elections accomplishes the aspiration of the majority of Brazilians to have more time to make the definitive choice of their presidential candidacy. The statement underlined that the first round was 'a setback to Jair Bolsonaro's fascist candidacy supported by mainstream media, large economic and financial groups, by sectors of state corporations .... including illegal actions, such as a lot of fake news that he would win in the first round'. Against Bolsonaro, the candidates Fernando Haddad as president and Manuela D'Ávila as deputy supported by previous president and Workers' Party (PT) leader Luiz Inácio Lula imprisoned by the reactionary forces in Brazil achieved to get almost 30% in the first round. PCdoB declared its support for the candidacy of Fernando Haddad 'to form a democratic front, as broad as possible, based on the unity of the left'.
The statement said, 'The basis for building the democratic front must be a platform that engages propositions of the new allies and builds on the Coalition's "People Happy Again" program. This platform should contain great banners such as restoring democracy and the Democratic State of Law; pacify and unite the country, freeing it from the dictatorial threat of Bolsonaro's fascist candidacy; resume sovereign development; encourage production and job creation; ensure the rights and conditions for a dignified life for the people and the working class; fight against corruption; and ensure that the national patrimony, like the wealth of the pre-salt, will not be turned over to foreign capital, as the false patriot Bolsonaro will surely do.'
This front, in the opinion of the PCdoB, 'must include, besides the left, a cast of leaders of several legends and personalities of the Brazilian society of the democratic field, with diverse political and ideological profiles', who show support for the candidacy of Fernando Haddad. The PCdoB expressed the conviction that Haddad's victory is fully possible and underlined that the sum of the votes of the three candidacies of the left reached more than 41% of the votes in the first round of elections. PcdoB asserted that the victory of the Haddad's candidacy lies both in 'the direct reason for the social and political breadth of support it can engage', in 'the degree of mobilization of the working people and other layers of society' and also in 'the clarity that it can convey to the electorate of what each candidature represents, of what is being disputed'.
The statement went as follows:
'Haddad's presidential campaign has the challenge of making clear to the electorate that the second round is not polarized between "two extremist candidates". The only "extremism" is Bolsonaro's fascism which, if elected, will be a feared one. The country would have a "strong" government, in the dictatorial sense, but not with the aim of providing security to the people as they advertise. It would be just the opposite. A "strong" government, avowedly willing to use violence and agency to wrest from the people what little rights it has left. To finish with 13th salary, during vacation, and with what is left of the rights guaranteed by the Consolidation of Labour Laws (CLT); in practice, settle with retirement; collect tuition at the public university; withdraw money from the Unified Health System (SUS), further worsening care. This is the threat that hangs over the country.'