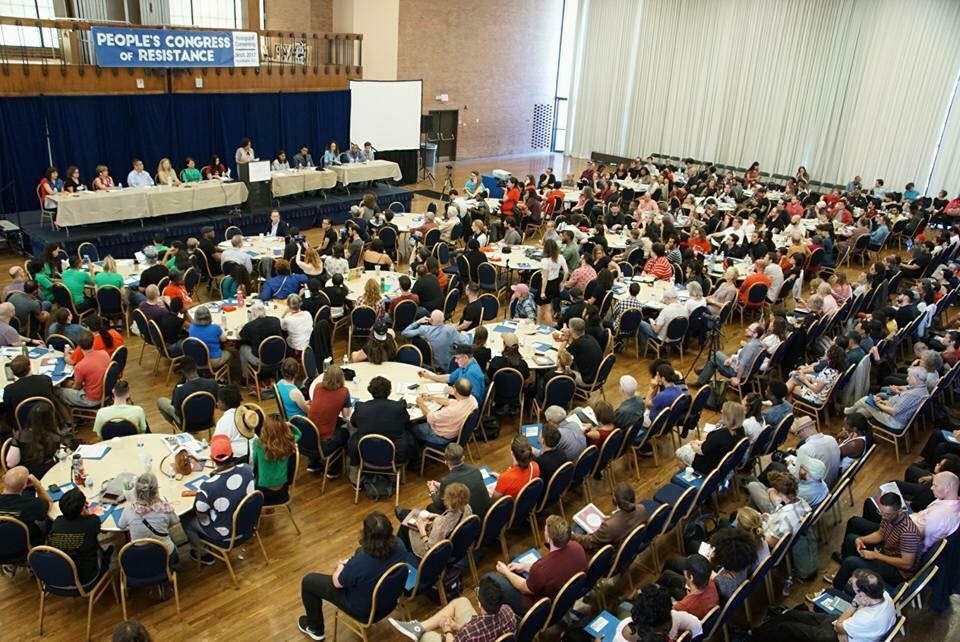 The People's Congress of Resistance movement was inaugurated with a two day meeting of grassroots organizers and frontline resistors as well as activists from Party for Socialism and Liberation (PSL).
ICP, 22 September 2017
The People's Congress of Resistance movement was inaugurated with a mass convening with the participation of  727 delegates from 38 states and 160 towns and cities in Washington, D.C on 16-17 September. On the Congress's web site it is stated that the main aim of the convening was '...to discuss the People's Congress of Resistance manifesto "Society for the Many: A Vision for Revolution," to share organizing experiences to take back home, to express solidarity with each other and to resolve on common projects and actions for the future.'
The People's Congress was opened by housing organizer Yasmina Mrabet of ONE DC and Los Angeles teacher Peta Lindsay and continued with brief remarks from some of the conveners who identified strategic objectives for the weekend. At the plenary session, Dominic Moulden of ONE DC, Karina Garcia of the Justice Center en El Barrio and  Brian Becker, National Director of the ANSWER Coalition made speeches emphasizing the mission and importance of the People's Congress in regard with the revolutionary struggle and solidarity of the people. The congress proceeded with workshops discussing "resistance tactics" and "Solidarity at Home and Abroad".
The People's Congress  also heard from special guests , who were, Jang Jinsook, the Director of Policy and Planning for the New People's Party in South Korea and Carlos Ron, the top Venezuelan diplomat to the United States.
The Congress also heard action-oriented resolutions like:  "to end the war on Black America"; "for the independence of Puerto Rico and in support of a Sept. 19 rally at the UN"; "against the coup government in Brazil"; and "to free the political prisoners, including Leonard Peltier, Ana Belen Montes, Mutulu Shakur and others".
The People's Congress of Resistance reported that the "convening organizations committed to 1) a mass popular education campaign to spread the Manifesto; 2) developing a People's Congress of Resistance media hub drawing on the exciting and dynamic media-making already underway; 3) holding report meetings from the inaugural event that could be the launching pad for continued local and regional events; 4) a process for other groups to be added to the Conveners Committee; and 5) the publication of the resolutions, photos and videos of the inaugural event."
After the two day event the attendees marched to the White House under the slogan "Stand against imperialism — Down with the warfare state!" The speakers especially declared opposition to a new destructive war against Korea, and any new regime change efforts against Venezuela.