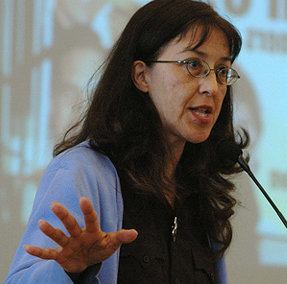 Statement from Gloria La Riva, the US presidential candidate of Party for Socialism and Liberation (PSL)
ICP, 9th June 2016
In a recent statement, Party for Socialism and Liberation (PSL) presidential candidate Gloria La Riva said:
"The Democratic Party establishment is kicking its lesser-of-two-evils blackmail into high gear, arguing that the only way to beat Donald Trump is to fall in line behind Hillary Clinton. We need to see beyond the current election cycle that every year brings us a worse and worse pair of choices. Break the cycle, vote socialist, and fight for a socialist society where the right to education, housing, health care, a job and a real say over your future are guaranteed."
PSL's presidential candidate Gloria La Riva is a labor, community and anti­-war activist based in San Francisco, California. She has been a key organizer of many mass demonstrations and other actions opposing the wars and occupation in Central America, Iraq, Palestine, Afghanistan, Yugoslavia and elsewhere.
Gloria has worked for decades to defend Cuba's sovereignty and against the U.S. blockade. She was awarded Cuba's Friendship Medal in 2010, approved by the Council of State, for her many years of Cuba solidarity, and is the national coordinator of the National Committee to Free the Cuban Five.
PSL's presidential campaign can be followed here.