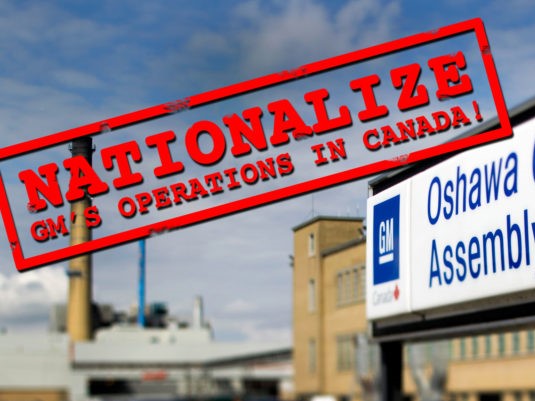 The Communist Party of Canada denounces the planned closure of GM Oshawa car plant.
ICP, 12 December 2018
The Communist Party of Canada recently released a statement against the planned closure of General Motors Oshawa car plant, calling it "a war on Canadian autoworkers and on automobile manufacturing in Canada." The statement also highlighted how using the NAFTA 2.0 agreement the major transnational auto manufacturers are "shifting the plants south to Mexico, where wages are $4 an hour or less – a fraction of what workers in Canada are paid."
The Communist Party demanded that federal and provincial governments intervene to stop the closure now, or failing that, to nationalize GM's operations in Canada, transform it into a crown corporation under public ownership and democratic control.
The Communist Party also expressed its solidarity with Unifor Local 222 workers who downed walked off the job in the first protests against GM's closure as the statement said: "The fight for GM workers is the fight for all workers in the auto sector, including auto parts and assembly, and for all those thousands of workers in spin-off jobs whose livelihoods depend on auto plants and production in Canada."
The whole statement can be read here.