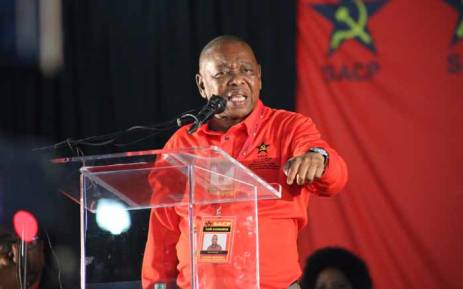 South African Communist Party (SCAP) General Secretary Nzimande criticized ANC on recent killings and said the Red October Campaign would focus on gender-based violance. 
ICP, 12 October 2017
Addressing a packed Johannesburg city hall, SACP General Secretary Blade Nzimande spoke about the alleged political killings in the province of KwaZulu- Natal and said, "these killings are called political killings but in actual fact, it's criminal elements. It's criminals who are killing us to attain political power... The SACP has suffered major losses in this regard as the first, major target. The SACP called on the relevant authorities to act against the political killings, but our call appeared to have fallen on deaf ears until the violence expanded." "If the African National Congress (ANC) wants to be a leader of the alliance, it must accept that we'll talk about it as its alliance partners" he added.
Following 14th Congress in July the SCAP resolved the annual Red October Campaign, focusing on "building and strengthening social mobilisation towards eliminating gender-based violence in particular and violence in general".  Nzimande announced that the Party would forge "the broadest possible patriotic front" to advance the revolution. "We need to build, as part of the strategy, a front to eliminate gender-based violence" he said, mentioning a consultative meeting by the SCAP last month with representatives of progressive NGOs. The SACP would be using the centenary celebrations of the Great October Socialist Revolution to strengthen working class women struggles against violence against women. 
At the Johannesburg meeting, the Congress of South African Trade Unions (COSATU) president Sdumo Dlamini said COSATU and the SACP would soon be meeting to discuss the granular detail and implications of the SACP's congress resolution to contest elections separate from the ANC. Dlamini said, "We are saying come and talk to us now, so we understand what the party is saying. We believe that the SACP should be able to provide clarity to say, where are we going as the alliance". 
The meeting took place following a march by SACP members en route to the venue of the launch of its Red October Campaign breaking into an unofficial campaign for Deputy president Cyril Ramaphosa as a successor to ANC president Jacob Zuma in ANC's December elective conference. A branch member of SCAP said, "For now, he's the likely candidate to unify the movement".