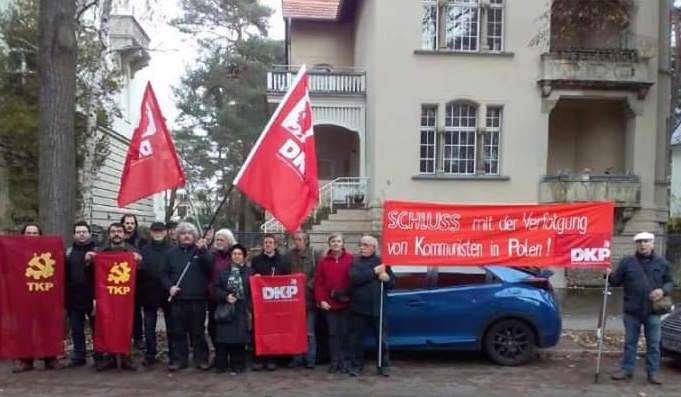 Anti-communist persecution against the Communist Party of Poland (KPP) was protested in Berlin by the German Communist Party (DKP) together with members of the CPs of Greece (KKE), Chile (CCP) and Turkey (TKP).
ICP, 27 November 2017
A judicial prosecution has been continuing for two years against KKP based on charges of propagating communist ideology in Brzask newspaper and the website of KKP. Cadres of the Party are facing two years imprisonment and there is also a threat of prohibition against the KPP. The communist program of KKP is alleged to be against the Constitution by the "Law and Justice" government.
A motion was issued by 67 communist and workers' parties against the prosecution and the KKP called for protests on the trial date, 27 November in front of Polish embassies. According to  KKP, the prosecution is a part of the campaign of the government to illegalize the Communist Party and it is taking place simultaneously with the anti-communist policy of rewriting history and removing monuments and names of the streets associated with communism and workers' movement from the public space.
DKP replied to the call by organizing a protest on 27th of November, in front of the Polish Embassy in Berlin. Besides DKP, members of the Communist Party of Greece (KKE), Communist Party of Chile (PCC) and Communist Party of Turkey (TKP) gathered in front of the embassy and protested the anti-communist conduct of the Polish government. During the protest, leaflets were distributed and it was declared that the communist movement will resist the attacks on international scale.