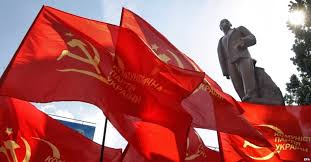 A group of Communist and Workers' Parties released a statement denouncing the ongoing trial to ban the Communist Party of Ukraine (CPU).
ICP, last update: 10 February 2017
A group of member parties from the International Meeting of Communist and Workers Parties (IMCWP) released a statement denouncing the attempts to ban the Communist Party of Ukraine (CPU). Emphasising the invalidity of the trial, the signatory parties underlined the responsibility of the EU, NATO and USA in the process by supporting the fascist forces in Ukraine. The declaration underlined the partnership of the EU, NATO and USA together with the fascist politicians in the Ukrainian government in not just the attempt to destroy the CPU but also in the attempts to rewriting the past and collective memory of the Ukrainian people, to impose the de-communization of the country and to glorify the Nazi collaborators from the past.
The CPU announced that the Kiev Appeal Administrative Court could not manage to pass a sentence at the February, 8 court hearing. The CPU stated that the most important factor was the international support by communist movement before the hearing. The court shceduled the next hearing for February, 21, 2017. In the statement the CPU First Secretary, Petro Symonenko told that, "the CPU, despite the persecutions by the ruling National oligarchic regime against the communists and their families confirms to the fraternal Parties, that our common will to win in the struggle for protection of the interests of the working people of Ukraine is purposefully inflexible."
The signatories of the statement are as follows (updated):
Albania - Communist Party of Albania
Australia - Communist Party of Australia
Austria - Party of Labour
Bahrain - Progressive Tribune
Bangladesh - Communist Party of Bangladesh
Belgium - PTB-PVDA - Workers Party of Belgium
Brazil – PCdoB – Communist Party of Brazil
Britain - Communist Party of Britain
Britain - New Communist Party of Britain
Croatia - Socialist Workers Party of Croatia
Cyprus - AKEL – Progressive Party of the Working People
Cuba- CPC – Communist Party of Cuba
Czech Rep. – CPBM – Communist Party of Bohemia and Moravia
Denmark - KPiD- Communist Party in Denmark
Finland - Communist Party of Finland
France – PCF – French Communist Party
Germany – DKP - German Communist Party
Georgia – UCPG – Unified Communist Party of Georgia
Greece – KKE – Communist Party of Greece
Hungary - Hungarian Workers Party
India - Communist Party of India (Marxist)
Iraq - Iraqi Communist Party
Iraq – Kurdistan – CPIK – Communist Party of Iraqi Kurdistan
Iran – Tudeh Party
Ireland - Communist Party of Ireland
Ireland - Workers Party of Ireland
Israel - Communist Party of Israel
Lithuania - Communist Party of Lithuania
Lithuania - Socialist People's Front
Luxembourg - Communist Party of Luxembourg (KPL)
Malta - Communist Party of Malta
Mexico - Communist Party of Mexico
Netherlands – New Communist Party of the Netherlands
Norway - Communist Party of Norway
Palestine – PPP - Palestinian People's Party
Pakistan – CPP – Communist Party of Pakistan
Philippines - Philippine Communist Party
Poland - Communist Party of Poland
Portugal – PCP – Portuguese Communist Party
Romania - Romanian Socialist Party
Russia - CPRF – Communist Party of the Russian Federation
Russia - Union of Communist Parties – Communist Party of the Soviet Union
Russia - Russian Communist Workers Party
Serbia - KS - Communists of Serbia
Sweden - Communist Party of Sweden
Switzerland - Communist Party (Switzerland)
Turkey – TKP – Communist Party of Turkey
USA – Communist Party of USA
Venezuela - Communist Party of Venezuela
Download