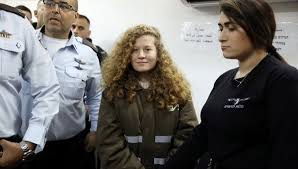 The European Communist Initiative Secretariat released a statement for the immediate liberation of the Palestinian activist Ahed Tamimi
ICP, 31 January 2018
On The INITIATIVE of communist and workers' parties in Europe released a solidarity statement for Ahed Tamimi on the occasion of her birthday and the beginning the trial. 16-year-old Palestinian activist, Ahed Tamimi was detained during a pre-dawn raid on her home by the Israeli army and border police on 19 December 2017. The court proceedings against Tamimi which was supposed to begin today  (January 31), the day of her 17th birthday, and then postpned to 6 February. 
The statement of the INITIATIVE for the immediate liberation of  Tamimi is as follows:
After the decision of the Trump government to recognize Jerusalem as Israel's capital, the government of Israel has been emboldened, increasing its aggressiveness against the Palestinian people. The State of Israel intensifies the assassinations of Palestinian demonstrators, repression, arrests, imprisonments, expanding the settlements on Palestinian territory.
The arrest of the 16 year-old Ahed Tamimi is indicative of the barbarity of Israel's repression forces. They arrested her in her own house with the provocative accusation of resistance against the authorities, filing against her 12 charges for action against the occupation of the Palestinian territories by the Israel army.
Along with Ahed Tamimi the inalienable right of the Palestinian people to struggle against occupation is being attacked, for their right to have their own homeland, against the imperialist plans of the USA, EU, NATO and the government of Israel.
The European Communist Initiative calls the working class, the people, the youth in our countries to condemn in the most categorical way the persecution of Ahed Tamimi, demanding her immediate release and exemption from all charges.
To condemn the continuing crime against the Palestinian people and the escalation of Israel's aggressiveness.
To express their solidarity with the just struggle of the Palestinian people against Israel's occupation, against the provocative decision of the United States that recognizes Jerusalem as the capital of Israel
To strengthen their struggle for the creation and recognition of the Palestinian state with the borders of 1967, and with East Jerusalem as its capital.
30.01.2018