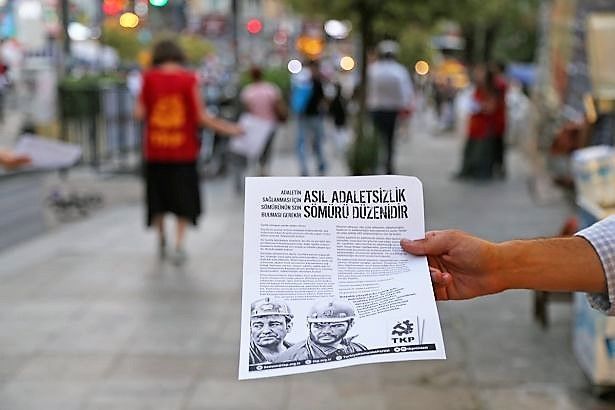 Communist Party of Turkey (TKP) issued a statement on the "justice march" of the leader of the main opposition Republican People's Party (CHP) of Turkey, pointing to the class character of justice.
ICP, 05 July 2017
SoL international news portal reported that, Communist Party of Turkey (TKP) issued a statement on the "justice march" of Kemal Kılıçdaroğlu, the leader of CHP, who set off on a march on June 15 from the capital city of Ankara and is scheduled to arrive in İstanbul on July 9. The march is to protest the arrest of the CHP lawmaker Enis Berberoğlu. Berberoğlu was sentenced to 25 years for exposing the arm-smuggling operation by the ruling Justice and Development Party (AKP)  to Syria.
TKP statement stated that the Party's "struggle alongside the workers against the injustice will intensify this week", referring to the week starting on July 3 until July 9, when the "march for justice" is expected to conclude.
TKP addresses "the source of the injustice, the inconcealable truth of our country" and announces that TKP will "raise its voice in order to abolish it". TKP made an appeal for raising the struggle against exploitation at every platform including the meeting of July 9, which is expected to be an important date.
The statement also underlined that "we are living in a world where the rule of law works almost perfectly, but, in terms of its consequences, where regimes based on the exploitation of man by man rule. Turkey, in this respect, is a country in which inequalities deepen at full speed."
TKP stated, "There is no pursuit of justice without the working class leading the struggle and the workers say: There won't be justice unless we abolish exploitation!"
First Secretary of the Communist Party of Turkey (TKP), Kemal Okuyan had summarised how communists view the "justice march" under 9 headings in an article publisehed on the Boyun Eğme journal.  See the link for the English version of Okuyan's  commentary on soL international.