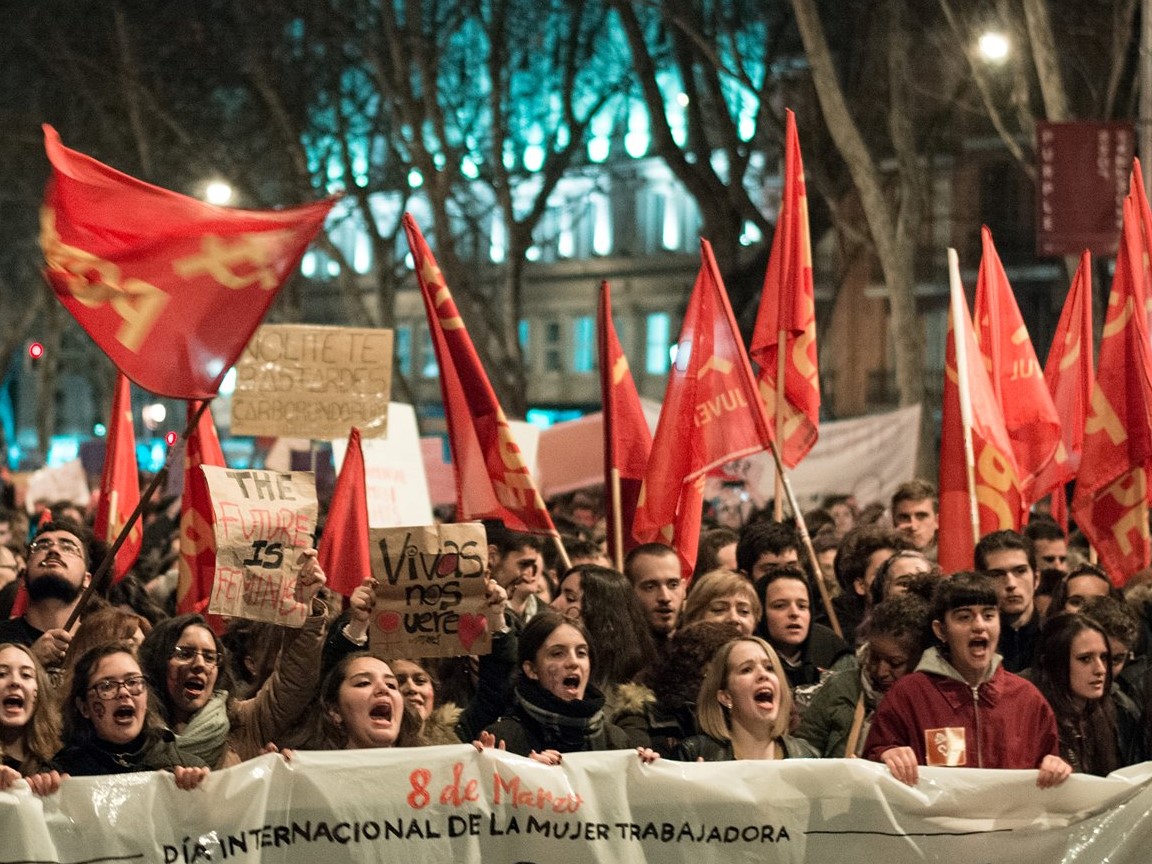 Communist Party of the Peoples of Spain (PCPE) issued a statement on the recent popular mobilisations in Spain and proposes demands for the forthcoming May Day.
ICP, 21 March 2018
The Political Bureau of the Communist Party of the Peoples of Spain (PCPE) issued a statement on March 12 about recent popular mobilisations in Spain. Given the concurrence of an increase in the will to struggle of the working class during such a period of political instability, it is stated, "different sectors of the working people are demanding the recovery of their rights and are leading a rebound of the class struggle." Mobilisations that took place on the 8th of March are defined as "a turning point" since it meant a clarification on the question of the working women thanks to "the massive answer of broad social sectors who have expressed their annoyance by the situation of double oppression suffered by the half of the working class." Meanwhile, pensioners are also to carry out mobilisations against attempts to destroy the public pension system.
 
The PCPE Political Bureau points out the next May Day as an essential date, in which the working class should "show a spirit of struggle and a firm opposition to all anti-worker measures carried out by the capitalists and their governments." Hence, following objectives are proposed to orient the immediate struggle and May Day mobilisations:
-Immediate repeal of labour reforms and pension reform
-End of all employment discrimination and the wage gap: equal work equal salary
-Rise of pensions in the same terms as the salaries of the police bodies
-Elimination of internships and training contracts, as well as the Youth Guarantee Plan
 
On the other hand, the PCPE observes an increase in repressive aspects of the capitalist state, which find its example in the substantial increase in the salaries of the security forces and warns about possible instrumentalisation of these mobilisations by "the social democracy, both the old and the new. " Continuing to "strengthen as an indispensable tool of the working class," the task and responsibility put front by the Party is "to build a country for the working class."
See the link for the full statement in Spanish.