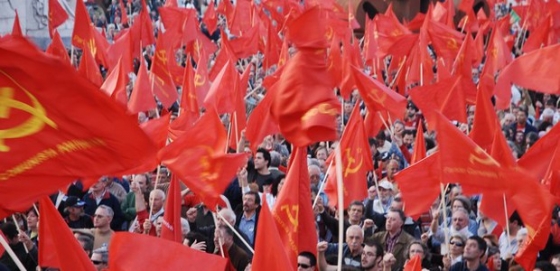 Following their XX. Congress the CC of the Portuguese Communist Party (PCP) examined the latest international and domestic political developments.
ICP, 21 December 2016
The Central Committee of the Portuguese Communist Party (PCP)  released a statement regarding their resolution on the organisation of leadership work and defined a set of lines of work and tasks resulting from the guidelines adopted in the XX. Congress, after their meeting on the 17th December.
The CC of PCP stated that, the XX Congress defined guidelines and adopted decisions "for a stronger and more prepared Party", "for the patriotic and left-wing alternative" and "for an advanced democracy with the April values in the future of Portugal, for Socialism". The CC of the PCP also paid homage to Fidel Castro in its statement.
As a reflection of the crisis in Europe, the CC of the PCP pointed out to the recent referendum in Italy, in addition to the growing militaristic drift of the European Union with the "Defence Union" project, together with the deepening of its inhumane refugee policy. The statement also drew attention to the European Union's aim of "institutionalizing ideological censorship or restricting the intervention of Members of the European Parliament". 
Regarding the economic policies of Portugal, the CC of the PCP evoked its demand for the main public bank Caixa Geral de Depósitos bank (CGD) to assume its role as financier of the economy and of small and medium-sized enterprises and as an instrument for the sovereign development of the country. This was reiterated with the demand to integrate Novo Banco in the sphere of State control, rejecting its selling off with huge loss to public coffers.
The CC declared its decision "to carry out a campaign between January and June 2017, on the release from submission to the Euro which, in conjunction with the demand for renegotiating of the debt and the recovery of public control of banking, clarifies the unsustainable constraints and impositions of the European Union, and mobilises various sectors of society for the need and possibility of liberation from submission to the Euro, for production, employment and national sovereignty."  The campaign, "More rights, more future, no to precariousness" would also be continued from January to May 1st, 2017, stating the application of the principle that a permanent job should correspond to an effective contract.
The preparations of the 2017 local government elections as "an important moment to affirm and valorise the CDU – Broad-United Democratic Coalition" was underlined by the CC of PCP. It was announced that the CC would convene a National Meeting of the PCP on April 8 as part of the preparations for the local government elections.