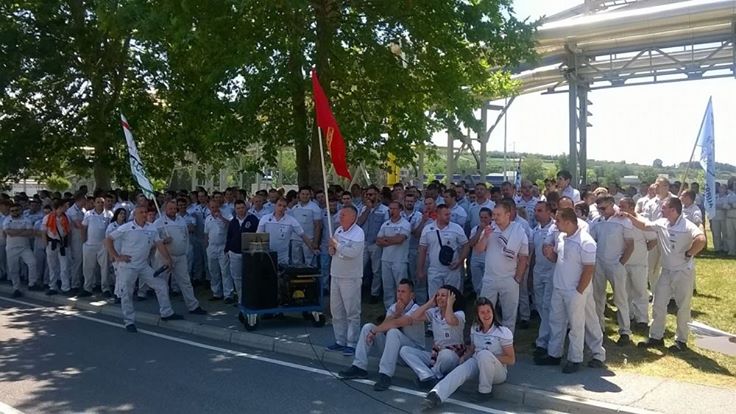 New Communist Party of Yugoslavia (NKPJ) calls for international solidarity with the strike at Fiat Chrysler Automobiles.
ICP, 14 July 2017
As the strike at Fiat Chrysler Automobiles against excessive work load and low wages gets stronger each passing day, New Communist Party of Yugoslavia (NKPJ) called for international solidarity with the workers. The strike began on Tuesday 27 June after two days of warning protests. Last summer, a whole shift was laid off at the factory of Fiat Chrysler Automobiles' Serbian subsidiary FCA Srbija in Kragujevac, but the volume of work had stayed the same. Two thousand blue collar workers, representing 90 per cent of the workforce, went on strike after the management refused to negotiate working conditions. The workers demand a small wage increase, paid overtime, an end to layoffs, a reorganization of work to cut workload, and compensation for transport costs for shifts that start or finish when there in no public transport.
The International Relations Section of the CC of the NKPJ pointed out that the core issue is the intensification of work and low wages. According to the statement of the NKPJ, "the strike is seen as a highly significant test of Serbian workers' ability to resist the intensification of work, and win a decent living wage. Many European auto manufacturers have shifted production to Eastern Europe, where wages are low. FCA Srbija production workers earn about 400 Euros per month. Recently, Slovakian VW workers won a significant wage increase after taking strike action."
The statement went as follows:
"The way foreign 'investment' works in Serbia and neighbouring countries goes well beyond standard bourgeois exploitation. The term 'investment' here has truly turned into its opposite. Most of the expenses are paid out of the state budget, leaving the private owners to accumulate more and more super-profits without any serious risk to their businesses.
"The workers in Kragujevac aren't the only ones who decided to intensify the class struggle. More and more strikes are being reported throughout Serbia and other former-Yugoslav lands. 'Falk East' in Knjaževac, 'Goša' in Smederevo, the Railways of the Serb Republic (Serb part of Bosnia and Herzegovina), and the list goes on… As the economic crisis deepens and the cost of living grows, the purchasing power and working conditions are deteriorating at a rapid pace. The intensification and expansion of class struggle is becoming the only way to survive."
Finally, the International Relations Section of the CC of the NKPJ called for international solidarity for the workers at the Fiat Chrysler Automobiles factory in their fight for their rights and legitimate demands.