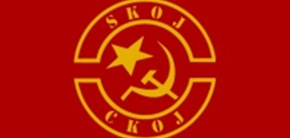 The youth organization of New Communist Party of Yugoslavia (NKPJ), SKOJ, celebrated 25th anniversary with an international event.
ICP, 30 January 2017
On the 25th anniversary of the League of Communist Youth (SKOJ) -the youth organization of New Communist Party of Yugoslavia (NKPJ), an international seminar and a photograph exhibition was organized.
Apart from the communist youth organizations of the neighbouring countries, World Federation of Trade Unions (WFTU) was also represented in the seminar and exhibition program in Belgrad on January 28-29.
The exhibition, in which photographs of the recent period struggle of the youth organization of Historical Communist Party of Yugoslavia (SKOJ) draw great interest from both the party members and their fellows. 
In the seminar, position of the youth in the struggle of socialism and contemporary needs were discussed, while necessity of internationalist collaboration  among organizatons was driven forward.
After the closing remarks of General Secretary Aleksandar Banjanac and the First Secretary Aleksandar Đenić  mentioning the political atmosphere of NKPJ and SKOJ faces in addition to their responsibilities with this regard during the exhilarated last session, event was finished with the International Anthem.