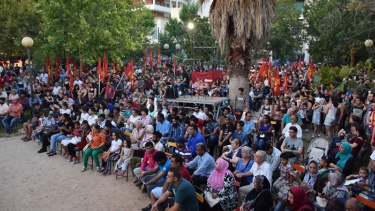 Communist Party of Greece (KKE) hosted a political-cultural event in Athens, bringing together Greek, immigrant and refugee workers.
ICP, 06 July 2017
On June 30-July 1 2017, FIX park in Athens hosted for the 17th consecutive year the political-cultural events of the Attica Party Organization of the Communist Party of Greece (KKE)  for Greek, immigrant and refugee workers with the following main slogan: 'Greek, immigrant and refugee workers, we struggle in an organized and united way against capitalism, for workers' power, socialism'.
During the events political discussions were held, as well as musical and theatrical performances, while a children's area was organized with multifaceted activities.
Thodoris Chionis, member of the PB of the CC of the KKE, spoke at the main political rally and amongst other things called for the intesification of the joint struggle 'against the exploitation that is becoming increasingly brutal, against the intimidation in the workplaces, the maintenance and the increase of the privileges of the few, of the masters of the wealth, who seize it from the work of the many, of all the workers, local and foreign, with the support of their governments'.
As T. Chionis stated, refugee and immigrant workers 'have nothing to divide us. We are united in our right to live a better life, in a new society in Greece and your countries, sending the system of exploitation, poverty and imperialist wars, capitalism to the dustbin of history'. Addressing the immigrants he noted that, 'the system that drove you from your countries to Greece, as well as to other countries, cannot safeguard a decent life, work with rights, for Greeks and foreigners'. Chionis, called on them to join forces with the KKE.
19 immigrant communities participate in the events from Ethiopia, Armenia, Burgaria, Ghana, Zimbabwe, Kenya, Cameroon, Madagaskar, Morocco, Moldova, Burkina Faso, Nigeria, Pakistan, Palestine, Russia, Sierra Leone, Sudan, Sri Lanla, Tanzania.