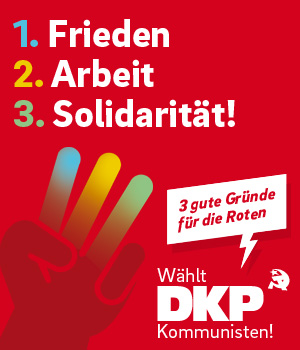 German Communist Party (DKP) declared unconditional solidarity for steel workers and called the people of Germany to 'Vote Communists'.
ICP, 24 September 2017
The German Communist Party had its election campaign with the slogan 'Peace, Labour, Solidarity. Vote Communists! at the 2017 German elections'. In the previous week of the election the Communist Party of Greece (KKE), the Communist Party of Turkey (TKP), the Communist Party of Kurdistan (KKP), the Party of Labor in Austria (PdA) and the New Communist Party of Yugoslavia (NKPJ) announced their solidarity and support for DKP and called the people of Germany to vote DKP.
On 21 September during the pre-election week, DKP released a statement denouncing the forthcoming merger between ThyssenKrupp and the Indian Tata Steel, which means possible mass lay offs and declaring unconditional solidarity as far as possible with the steel workers.
DKP stated "that the future of thousands of steelworkers' families could be decided on the weekend of the Bundestag elections" and emphasized that the DKP will stand solidly against  this merger. 
DKP ended the statement with the demand for "the immediate introduction of the 30 hour work week with full pay and compensation and the nationalization of the steel industry under democratic control.
For the full text of the statement in German see the link.