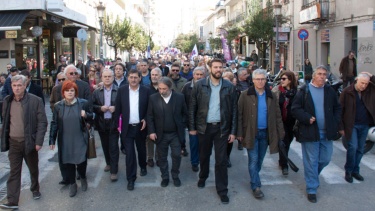 The provocative judicial persecution of the communist Mayor Kostas Peletidis set in motion by the Nazis did not succeed 
ICP, 25 February 2017
The communist mayor of the city of Patras, Kostas Peletidis, was found unanimously innocent by the court of Patras on February, 23th. He was accused for not providing space to the Nazis of Golden Dawn to propagandize their fascist and racist views in the parliamentary elections of 2015. The verdict was greeted with applause and slogans by the people gathered outside the courthouse of Patras. Representatives of trade unions, mass organizations, mayors and municipal councilors from all over Greece and thousands of workers stood at the side of the communist mayor.
The prosecution was carried out against him after the lawsuit filed by the former MP of Nazi Golden Dawn, claiming the communist Mayor, who, by implementing the unanimous decision of the Municipal Council, did not facilitate the activity of the Nazi criminal organization of Golden Dawn. 
Kostas Peletidis, after the court issued its verdict, made a statement to the press, underlining that they will continue the struggle against the activities of Golden Dawn together with the people and their organizations that supported the Municipal Authorities. The statement  of Peletis is as follows:
"Mayor and the Municipal Council continue to consistently defend the people's interests. We will continue to out duty, we will continue not to facilitate the activity of Golden Dawn, its Nazi ideology, which is the source of its criminal character. We continue together with the people and their organizations, which supported the Municipal Authorities during the entire period, in order to isolate the activity of a formation that expresses the most extreme form of class exploitation. Together with our people in the struggle so that the people's families, sorely tried and tested by the barbaric measures of the bourgeois governments up until the present day, can breathe."