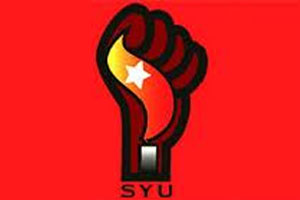 The Socialist Youth Union – Sri Lanka denounced the decision of USA on Jerusalem and said that it disqualified the USA as a 'peace broker'.
CP, 16 September 2017
The National committee of Socialist Youth Union – Sri Lanka denounced the decision of the USA to declare Jerusalem as the "capital of Israel" and to transfer its embassy there from Tel Aviv. In its statement the SYU - Sri Lanka expressed that this move had created an outrage in the whole world especially in Middle East.  
The statement said, 'We as the Socialist Youth Union have always been and will remain firmly by the side of Palestinian people who are continuing the struggle for free Palestinian state. We strongly condemn the US President's move as it drags the peace of the Middle East region to a more vulnerable situation. The status of Jerusalem cannot be unilaterally altered or determined by any state and therefore decision by the US should be rescinded.'
The SYU – Sri Lanka called on the youth 'to condemn decisively the torture on entirety of people, the violence carried out by the Israeli state holding the thousands of political detainees, the construction of the wall of shame with settlements and the continuing occupation of Palestinian territory'. It was underlined that the decision of the US administration 'disqualifies USA again as a so called "peace broker" in future'.