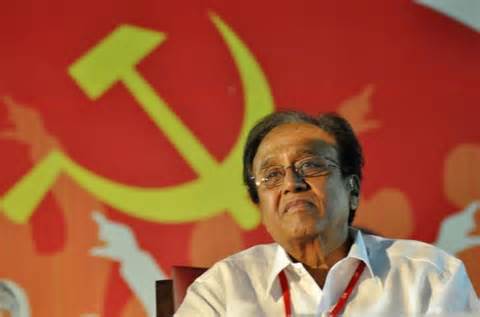 On January 26th, the Republic Day of India, Communist Party of India (CPI) made a call for defending the constitution of India against the government.
ICP, 30 January 2017
The General Secretary of the Communist Party of India, Sudhakar Reddy, made a statement last week calling to fight for the Constitution which, he believed to be sabotaged by the BJP government.
The Constitution of India, which was established in January 26, 1950, then had abolished the dominion status of India, rejected the British crown and declared India as a full-fledged Democratic Republic.The Constitution not only detached the country from colonialism but also promised secularism and equality to all the citizens irrespective of religion, caste, creed and language. 
In his statement, the GS of CPI Reddy, reminded that in the Constitution "by incorporating socialism through an amendment, the goal for socialism is also included". He emphasized that, the Constitution of India, had given them "freedom of faith, freedom of expression and abolished untouchability, defining it as a punishable offense."
The statement continues as follows:
"The 'Democratic, Secular Socialist Republic' has forgotten socialism as its goal and after 1992, in the post-Soviet collapse development, with the emergence of unilateral world led by US adopted globalisation, liberalisation and privatisation. This has led to the fast growth of corporate capitalism and of late crony capitalism, paving way for concentration of wealth in the hands of a few and looting chores of people pushing them to utter poverty. After the BJP government led by Narendra Modi has come to power at the Centre in 2014, consistent efforts are being made to sabotage the Constitution in letter and spirit."
Sudhakar Reddy also pointed out that the BJP government is now suffocating the Judiciary and ignoring the Legislature. He stated that, the principle of secularism is being demolished through communalism and pro-corporate economic policies are doing away with the equality provided by the Constitution. "All those who are opposed to the RSS [nationalist] ideology and its pro-fascist agenda are being branded as anti-nationals. Patriotism has become the monopoly of Hindutva forces in the country. In the name of cow protection, Muslim minorities and Dalits are targeted, attacked and killed. An atmosphere of terror is being unleashed all over the country." stated the General Secretary.
In this context, at the last meeting of the National Council of the Communist Party of India, which have been held in December 2016 at Hyderabad the republic day of 2017 to be announced as 'Save Constitution Day' . The statement of the CPI reiterated that  by stating:
"The Republic Day is the proper occasion for us to raise our voice in defence of the Constitution of India, ... The game plan should be fought back. We must with all our might defend the Constitution of India."