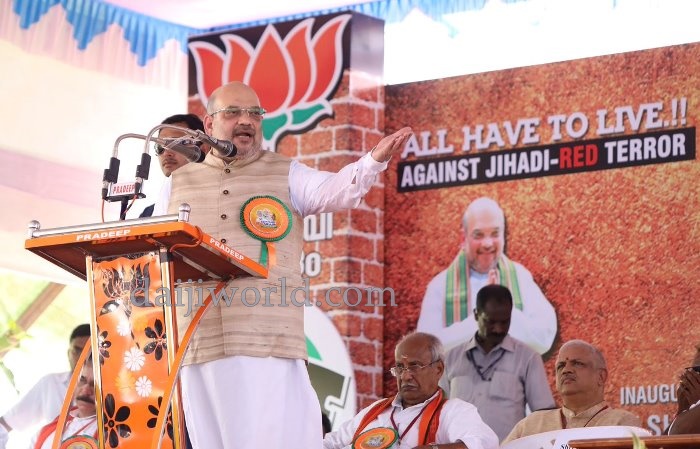 The Central Secretariat of the Communist Party of India (CPI) issued a statement condemning the RSS-BJP move against the Left Democratic Front (LDF) government in Kerala.
ICP, 7 October 2017
In the state of Kerala, the LDF government led by the CPI and the Communist Party of India (Marxist) is being attacked by the nationalist paramilitary organization of RSS and the ruling party BJP.
A statement was issued by the CPI General Secretary S. Sudhakar Reddy concerning the recent attacks which first attempted to create communal polatisation in Kerala and then targeted communist party activities labeling them as 'red terror'.  
The statement is as follows:
The Central Secretariat of the Communist Party of India strongly condemns attempts by frustrated RSS-BJP to create a political crisis in Kerala and thereby act against the democratically elected LDF government in the state. All the earlier attempts by the duo miserably failed to achieve a communal polarisation in the state and now the national leadership of BJP has taken it over its shoulders to lead the campaign against the Kerala LDF government.
As part of this programme, BJP has undertaken a 'Janaraksha Yatra' (Save People Yatra) and party's national president Amit Shah himself flaged off the campaign saying it is against the 'CPI(M)'s violence and jihadi terror'. Apart from Shah, an array of the party's national leaders, including UP Chief Minister Yogi Adityanath, will participate in the yatra from October 3 to 17. It may be noted here that the yatra has been launched immediately after RSS chief Mohan Bhagawat accused Kerala and West Bengal governments of supporting anti-national and jihadi forces.
There is a decline in the economy with GDP going down from 7.5% to 5.7%, abnormal increase of unemployed, uncontrolled price rise, people are in distress and angry. The negative effects of demonetisation and GST are now showing on economy. Corruption is on increase in BJP states. The blackmoney holders of Panama Papers leaks are being saved carefully by BJP government. To escape from the anger of the people BJP is resorting to diversion drama of exaggerating the Kerala incidents and carry on this campaign with big fanfare with corporate media support.
The people of Kerala will not forgive RSS-BJP for the move to paint the entire state as a haven for jihadis and anti-national forces.