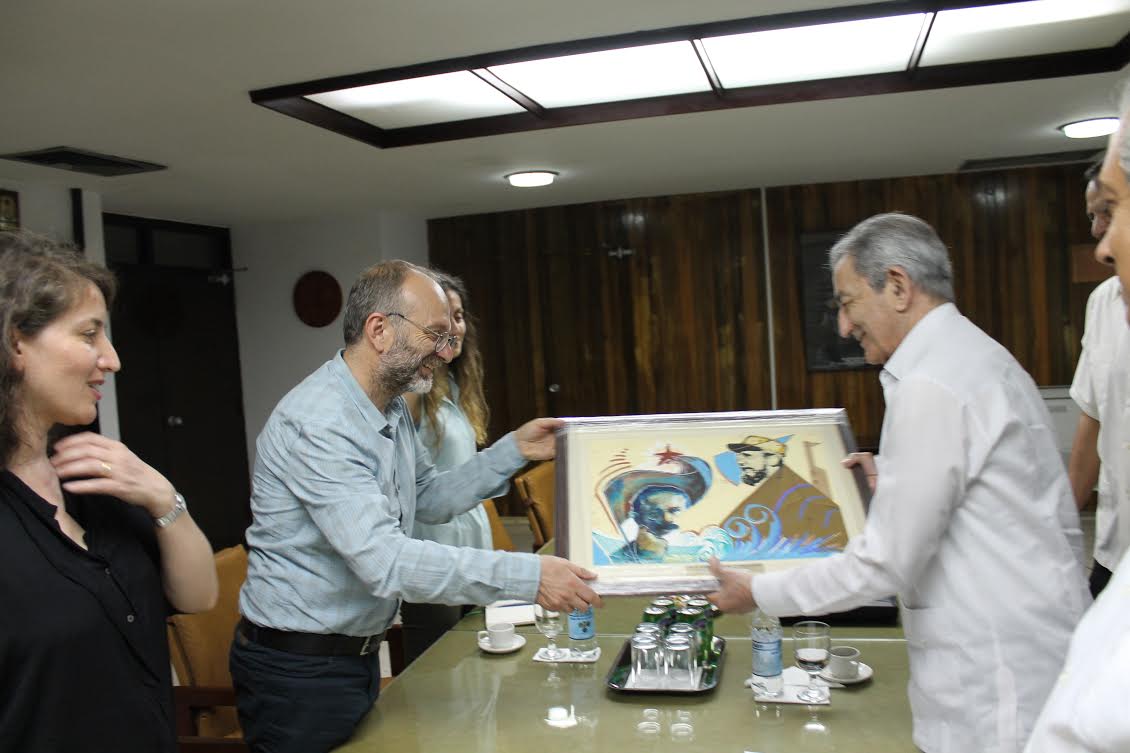 Communist Party of Turkey (TKP) finalized an official visit to Cuba, as they had meetings with representatives of the CC of the Communist Party of Cuba (PCC), the Central Trade Union of Cuba (CTC), the Communist Youth League (UJC), the Cuban Women's Federation (FMC), and the Cuban Institute of Friendship with Peoples (ICAP)
ICP, 17 June 2017
The delegation of the Communist Party of Turkey (TKP), led by Kemal Okuyan, First Secretary of CC of TKP, which was in Cuba last week to have conversations with representatives of the Communist Party of Cuba (PCC) and various mass organizations, completed the visit and turned back to the country.
​The delegation met with José Ramón Balaguer Cabrera, Member of the Secretariat of the CC of PCC and Head of the Department of International Relations of PCC. Balaguer made a comprehensive assessment of the economic and political crisis of imperialism, the challenges in front of the Cuban Revolution, and the principles of the transformation process in Cuban economy.
In other two meetings, the TKP delegation exchanged views on current issues and struggles in Europe and Latin America, respectively, with representatives from the Department of International Relations of PCC.   
The delegation visited the Central Trade Union of Cuba (CTC) and received information on its organizational structure and current trade union activities among workers of the public sector and the self-employed.
The visit to the Communist Youth League (UJC) focused on the political and ideological activities carried out by the organization among the whole range of the youth, from primary school students to university students as well as young workers.
The representatives of the Cuban Women's Federation (FMC) gave information on the grassroots activities of the Federation, provided up-to-date data on the involvement of women in political, social and economic life, and pointed out to specific sectors where women's presence needs further reinforcement.
In the meeting with the representatives of the Cuban Institute of Friendship with Peoples (ICAP), the parties discussed the main axes of solidarity with Cuba.
The TKP delegation also visited the facilities of the Lenin Park in Havana to make observations on the economic functioning of the public enterprise within the framework of actualization of the economic model in the country. The party and trade union representatives from the enterprise provided information on the organizational functioning of the party and the trade union at company level.
During the visit, Kemal Okuyan, First Secretary of the CC of TKP, delivered a conference in the Raúl Roa García Higher Institute of International Relations of the Ministry of Foreign Relations on "Foreign Relations of Turkey". The conference centered upon the conflicts in the Middle East, especially Syria.
The visit ended with an interview with Kemal Okuyan by Granma, the daily of the PCC.