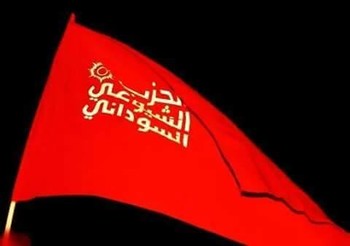 The government detained many members of the Sudanese Communist Party including members of the PB.
ICP, 29 December 2016
Following the days of effective civil disobedience in Sudan against the economic measures of the government, many members of the Sudanese Communist Party were detained including members of the PB of the Party. The SCP announced the release of some of the detainees as a result of the internal and international campaign and underlined the need to continue the solidarity activities for the release of all political detainees.
The civil disobedience act to stay at homes and boycott works was the continuance of the a nationwide strike of Sudanese doctors that had occurred during October and November. The austerity measures of the government to let the Sudanese Pound float increasing the prices notably of medications and drugs met with social reaction. The call for civil disobedience on the 27th to 29th of November aiming to topple the Bashir regime grew rapidly and reached a climax on the 19th December.
The government responded with a wave of detentions to curb the growing mass movement. Many members of the SCP were detained including Masoud Mohamed Alhassan and Sidig Yousif, both members of the PB of the Party. According to the statement of the SCP regarding the two PB members, "The security and prison authorities have refused to allow the families of both comrades to visit them, nor to provide them with the medicaments they need. Both are suffering from illnesses that need permanent use of certain tablets".
As a result of the national and international campaign for the release of political detainees, the Sudanese authorities were forced to release 17 of those detained including Masoud Mohamed Alhassan. However 42 political leaders and activists remain in the jails of the regime, some of them in solitary cells. The SCP stated that Sidig Yousif is still detained and being in his eighties, suffers from health problems. The Party called "to protest to the nearest Sudanese diplomatic mission against the treatment of the political detainees, to demand to allow family members, lawyers and medical doctors to see them and provide the necessary assistance needed".
Since the 1989's coup in Sudan, the National Islamic Front (NIF) in power has taken the economy on the path of free market, liquidating state-owned institutions and companies. The current Islamic Government of Sudan is known to have silenced multiple waves of public demonstrations triggered by the economic hardship with excessive force and violence in recent years. Intensified by president Bashir's regime, the country has experienced economic bottlenecks especially after the independence of South Sudan in 2011.